Top 10 Best Sakura (Cherry Blossoms) Viewing Spots in Yokohama 2023
Nos coups de cœur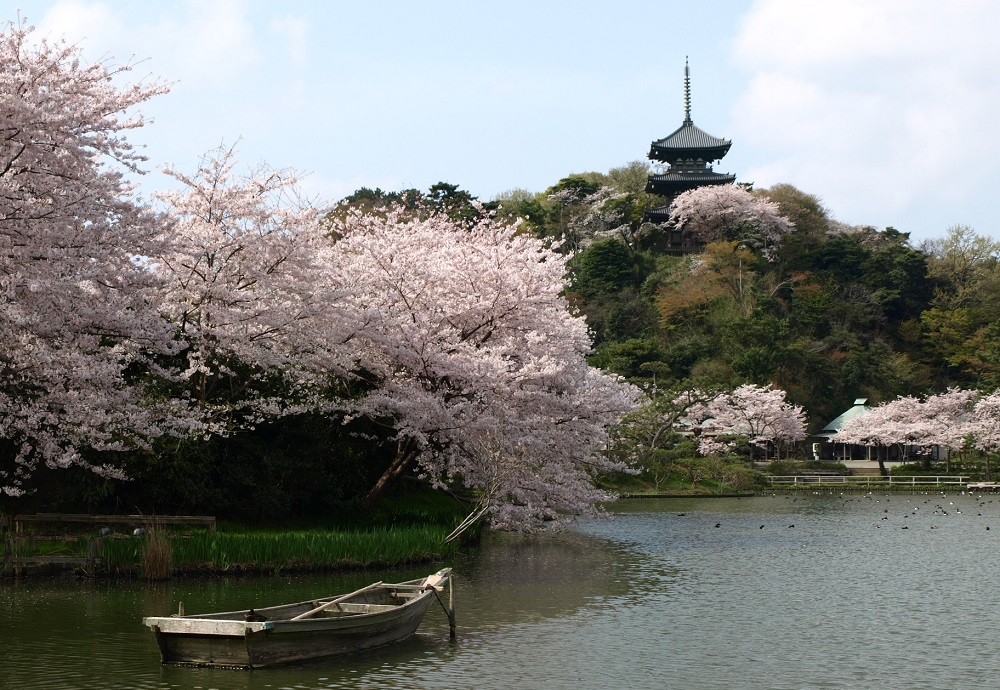 Published Mar.17.2023
In Japan, there is a traditional custom of appreciating the beauty of flowers, especially Sakura (cherry blossoms), in springtime. Yokohama is blessed with the scenery of both traditional and modern architecture which blends well with Sakura. Here are the top 10 popular Sakura viewing spots in the city. Most spots are free, so you can casually enjoy authentic Japanese beauty.
<2023 Sakura Forecast> the end of March to the beginning of April
Accédez à notre calendrier des événementspour les prochains événements de visualisation des cerisiers en fleurs.
Minato Mirai 21 / Sakuragicho Area
1.Minato Mirai 21 (Sakura-dori, Kishamichi Promenade)
"Sakura-dori" is one of the most famous Sakura (cherry blossoms) viewing spots in Yokohama, with Somei-yoshino Sakura trees in beautiful light red and white blooming along a 500-meter-long walkway stretches from JR Sakuragi-cho Station to Yokohama Landmark Tower and Pacifico Yokohama. "Kishamichi Promenade" is a boardwalk consisted of three bridges over the sea which was former railway track. From both viewing spots, you can enjoy the fusion of the modern skyscrapers of Minato Mirai and the beautiful cherry blossoms.
MINATO MIRAI 21
Adresse
Minatomirai, Nishi-ku, Yokohama
Quartier
Minato Mirai 21 / Sakuragicho
Gare ferroviaire la plus proche
Station Sakuragicho: Ligne JR Keihin Tohoku Negishi / Ligne de métro municipale / Station Minatomirai: Ligne Minatomirai
---
2. Rivière Ookagawa
Approximately 700 of Sakura (cherry blossom) trees bloom along the riverbanks on both sides which creates a tunnel like effect of Sakura branches, making it one of the most famous Sakura viewing sights in Yokohama. At night, Sakura reflected on the river surface illuminated by Bonbori lanterns create a fantastic atmosphere as they sway with the river flow. As the cherry blossoms begin to fall, countless petals fall to the surface of the river, filling the entire river with Sakura petals and turning it beautiful Sakura colored, which is also a highlight.
---
3. Kamonyama Park
Kamonyama Park, located on a hill a 15-minute walk from Sakuragi-cho Station, you can look out over skyscrapers of Minatomirai 21 area down below. The park is also known as a famous place for Sakura (cherry blossoms), and in an open space surrounded by Sakura trees a monument to Naosuke Ii overlooks the Port of Yokohama, which he contributed to open. It is a popular sakura viewing spot in Yokohama, attracting many visitors during Sakura season.
KAMONYAMA PARK
Adresse
57 Momijizaka, Nishi-ku, Yokohama
Quartier
Minatomirai / Sakuragicho
Gare ferroviaire la plus proche
Station Sakuragicho: Ligne JR Keihin Tohoku Negishi / ligne de métro municipal
---
Parc Yamashita / Quartier de Chinatown
4. Parc Yamashita
Yamashita Park is a well-known sightseeing spot representing Yokohama, with a beautiful view of the sea. The flower beds and rose garden in the park offer seasonal flowers throughout the year, and in springtime, you can take pictures of Sakura (cherry blossoms) with the NYK Hikawa Maru (a museum ship designated as a tangible cultural property of Yokohama City) and Yokohama Marine Tower in the back, making this a unique Hanami spot in Yokohama. Sakura trees around "World Plaza" on the east side of the park are especially magnificent.
---
Région de Honmoku / Negishi
5. Sankeien Garden
The vast traditional Japanese garden covering over 175,000 sqm. with historical buildings across Japan. The garden features numerous Sakura trees around the pond, offering the beautiful scenery of the authentic Japanese Spring. Sakura trees are planted in the surrounding Honmoku area, and you can already get into the mood for Sakura viewing while heading there.
JARDIN SANKEI-EN​ ​
Adresse
58-1, Honmoku Sannotani, Naka-ku, Yokohama
Quartier
Honmoku / Motomachi / Yamate
Accès
Depuis la gare de Negishi: Ligne JR Keihin Tohoku Negishi: Prendre le bus municipal depuis l'arrêt de bus n ° 1, prendre la route n ° 58,99 ou 101 jusqu'à la station de bus Honmoku, 10 min. marcher jusqu'au jardin De la gare de Yokohama: Prendre le bus municipal de l'arrêt de bus n ° 2, prendre la route n ° 8 ou 148 à la station de bus Sankeien Iriguchi, 5 min. marcher vers le jardin
TÉL
045-621-0634
Horaires
9h00-17h00 (dernière entrée 16h30)
*The opening hours are extended during the full blossom season until 9:00pm
(Last entry 8:30pm)
Admission
Adult ( 15 years old and above ) 700yen
Children ( 14 years old and under ) 200yen
URL
https://www.yokohamajapan.com/things-to-do/detail.php?bbid=87
---
6. Negishi Forest Park
This extensive park was built on the site which once housed the first full-scale horse racing track in Japan. Approximately 350 Sakura trees are planted around a gently undulating, grassy open space. The large grass field is a perfect for enjoying Hanami (flower viewing). Viewing flowers while exercising, such as jogging, is another unique way to enjoy Negishi Forest Park.
---
Région sud / Kanazawa
7. Yokohama Hakkeijima Sea Paradise
A marine entertainment island which makes the most of the unique characteristics of "the sea," "islands," and "living creatures," where you can enjoy four different aquariums and a variety of attractions. You can enjoy approximately 700 Sakura trees of five varieties, including Someiyoshino, Yamazakura, and Oshima-zakura. In addition, various events are held on the island, and you can feel the arrival of spring and fresh greenery in various places on the island.
YOKOHAMA HAKKEIJIMA SEA PARADISE
Adresse
Hakkeijima, Kanazawa-ku, Yokohama
Quartier
Quartier sud de Yokohama
Gare ferroviaire la plus proche
Station de Hakkeijima : ligne Sea Side
TÉL
045-788-8888
Horaires
Dépend du lieu
Ouvert tous les jours
Admission
L'entrée à l'île est gratuite.
BILLET 1 JOUR (Aquarium et attraction)
Adulte et lycéen 5050 yens
Élève du premier cycle du secondaire et du primaire 3 600 yens
Enfants (4 ans et plus) : 2 050 yens
URL
https://www.yokohamajapan.com/things-to-do/detail.php?bbid=115
---
8. Kanazawa Natural Park / Zoological Garden
Kanazawa Natural Park is one of the largest natural parks in Yokohama, covering approximately 600,000m² surrounded by greenery, and Kanazawa Zoo is located within this natural park. The best spot for Sakura viewing in the park is the row of Sakura trees in front of where the Indian elephants are. You can enjoy Sakura viewing while watching elephants.
There are about 2,000 Sakura trees of more than a dozen varieties, and around 180 trees of Someiyoshino are planted in the zoo area.
JARDINS ZOOLOGIQUES DE KANAZAWA (PARC)
Adresse
5-15-1, Kamariyahigashi, Kanazawa-ku, Yokohama
Quartier
Quartier sud de Yokohama
Gare ferroviaire la plus proche
Gare de Kanazawa-Bunko : ligne Keihin Kyuko
TÉL
045-783-9100
Horaires
Natural Park (Botanical Zone) : 9:00am-5:00pm
Zoo area : 9:30am-4:30pm (Last Entry 4:00pm)
Admission
(Zoo) Adult : 500 yen / High school student : 300 yen / Elementary school student / Junior high school student : 200 yen
(Parc) Entrée libre
URL
https://www.yokohamajapan.com/things-to-do/detail.php?bbid=113
---
Région Nord / Shin-Yokohama
9. Mitsuike Park
Mitsuike Park is centered around three ponds and is surrounded by a forested area including Sakura trees.
Mitsuike Park is also famous for its Sakura trees, which have been selected as one of the 100 best Sakura viewing spots in Japan. 1,600 Sakura trees of 78 varieties bloom one after another, adding color to the waterfront.
PARC MITSUIKE
Adresse
1-1 Mitsuike Park, Tsurumi-ku, Yokohama
Quartier
Quartier nord de Yokohama
Gare la plus proche et arrêt de bus
Mitsuike-Koen Kitamon (Municipal Bus Route 6 or 104) from Shin-Yokohama Station (JR)
Mitsuike-Koen Kitamon (ligne de bus municipale 6, 67 ou 104) depuis la gare de Tsurumi (JR)
TÉL
045-581-0287
URL
https://www.kanagawaparks.com/mitsuike/
---
10. Kodomonokuni (Terre des enfants)
The 250-acre park includes a farm with animals and a barbecue area and many. Other attractions include a 110-meter-long slide, a mini steam locomotive, and an artificial river amongst other facilities. Every year from around late March, over 1,000 Sakura trees from 40 different varieties bloom.
---
Une ville de beauté naturelle
---