For 2-Hour Stays
Two of Yokohama's passenger-ship terminals—Osanbashi Pier and Shinko Pier —are located in the heart of Yokohama. No other port city in the world has cruise terminals situated so close to downtown.
If your cruise as a two- or three-hour stopover in Yokohama, you can easily stroll to nearby tourist attractions and shopping venues, either on foot or using public transportation.
Dining and Shopping
The Shinko Pier Cruise Terminal is adjacent to Yokohama Hammerhead, a shopping mall featuring interactive shops on the theme of food as well as restaurants and hotels. Inside you will find an amazing variety of gourmet options to sample, including shops where you can watch the traditional confections of Yokohama being made and taste the freshly baked treats.
Just 10 minutes' walk from Shinko Pier is Yokohama Red Brick Warehouse, one of Yokohama's signature attractions. This site actually consists of two red-brick warehouses, perched on the water's edge, with a history of over 100 years. Warehouse No. 1 contains halls and multi-purpose spaces, which are used to present plays, concerts and dance performances all year round. At Warehouse No. 2, over 50 restaurants, cafés and boutiques await. Several of these offer products with special connections to Yokohama, making Warehouse No. 2 ideal for dining, shopping and souvenir hunting.
A 10-minute taxi or bus ride takes you from Osanbashi Pier to Yokohama Chinatown. Suddenly from the streetscapes of Yokohama emerges an ornamental red gate (pai-loo), a traditional Chinese architectural feature. Enter the district and immediately you feel enfolded in the ambiance of China. Over 150 Chinese restaurants, souvenir shops and boutiques are in operation here.
If your interests lie in shopping, from here you can reach Yokohama Station by bus or train in less than 30 minutes.
At Yokohama Station you'll find two venerable department stores, Yokohama Takashimaya and Sogo Yokohama, selling foodstuffs, apparel, cosmetics, daily-living goods, souvenirs and much more. Foreign visitors love shopping here for uniquely Japanese souvenirs such as yukata and kimono, and the stores can even handle tax-free processing for you.
Also popular with foreign tourists are bulk electronics retailers such as Yodobashi Camera Multimedia Yokohama. In addition to consumer electronics, these stores sell games, toys, sporting goods and much more, often at discounted prices.
Speaking of discount shopping, within walking distance of Osanbashi Pier is an outlet of Don Quijote, one of Japan's most popular discount chains. Don Quijote is crammed to overflowing with sundries and foodstuffs, and adjacent to the store are restaurants, cafés and a food court. An arcade occupies the second floor, so this is a good spot to spend time with your children as you wait to board your cruise ship.
An Authentic Japanese Experience in the Heart of Yokohama
From the cruise terminals of Osanbashi Pier and Shinko Pier, a 15-minute taxi ride takes you to Sankeien garden, a nationally designated place of scenic beauty. This spacious, 175,000sqm plot is an enormous Japanese-style garden, rich in natural beauty and dotted with 17 historical structures. At the café in the park, you can sample treats such as matcha tea, Japanese-style sweets and freshly baked dumplings.
At Yokohama Royal Park Hotel, a 15-minute stroll away from Shinko Pier, you can drink matcha tea high above the city. From Kaikoan, the hotel's tea parlor on the 65th floor, you can see distant Mt. Fuji if the weather is clear.
Yokohama Haikara Kimonokan, a store where you can rent yukata, kimono, hakama and other traditional apparel, has two locations in Yokohama: one in Osanbashi Yokohama International Cruise Terminal and one in Yokohama Red Brick Warehouse. From over 80 styles of kimono, over 100 yukata styles and over 40 styles of hakama, choose the colors and style you like and try it on.
Tour the Latest Spots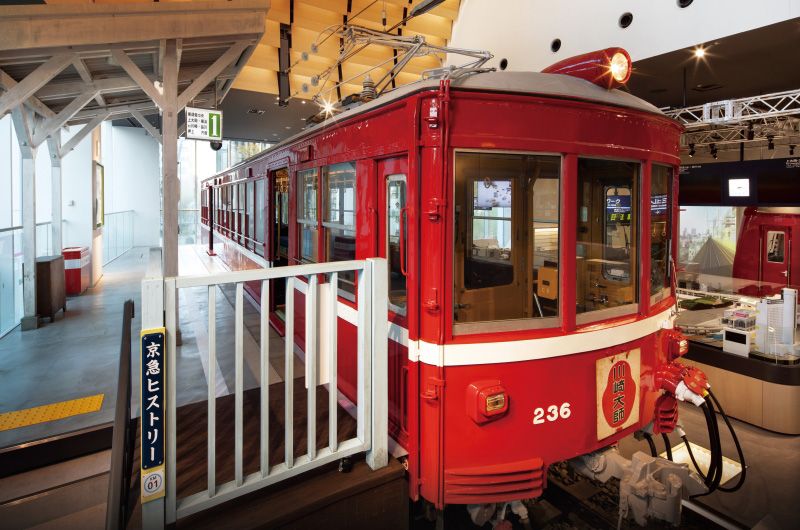 If you'd like to see the latest spots of interest in Yokohama, S/PARK (pronounced "ess-park") and Keikyu Museum are recommended options. These two attractions are 15 minutes away from Osanbashi Pier by taxi or train.
S/PARK is an interactive, mixed-use complex that is all about beauty. It is operated by Shiseido, a producer and vendor of cosmetics products. If you're hungry, S/PARK café offers a menu of balanced, healthy dishes.
One of Yokohama's most talked-about attractions is Keikyu Museum, which opened in 2020 to commemorate the 120th anniversary of the foundation of the Keihin Electric Express Railway Co., Ltd., now Keikyu Corporation. Inside you'll find exhibits of actual historical rolling stock that once operated in Yokohama, a driving simulation booth, an exhibit on the history of Keikyu and more.
You can find the latest tourism information here.