Yokohama Autumn Foliage 2022
-Top 10 Places to See Autumn Colors-
What's Hot
Published Nov.1.2022
Autumn is a great time of year to visit Japan since it's one of the best places to see autumn foliage in the world. Japan is blessed with a beautifully distinct four seasons. And of the four seasons, perhaps the most popular season to visit Japan is autumn with truly beautiful red and gold colored leaves. Discover the top 10 places to see autumn colors in Yokohama, just 30 min. away from Tokyo.
2022 Autumn Foliage Forecast in Yokohama
To be announced
1. Sankeien Garden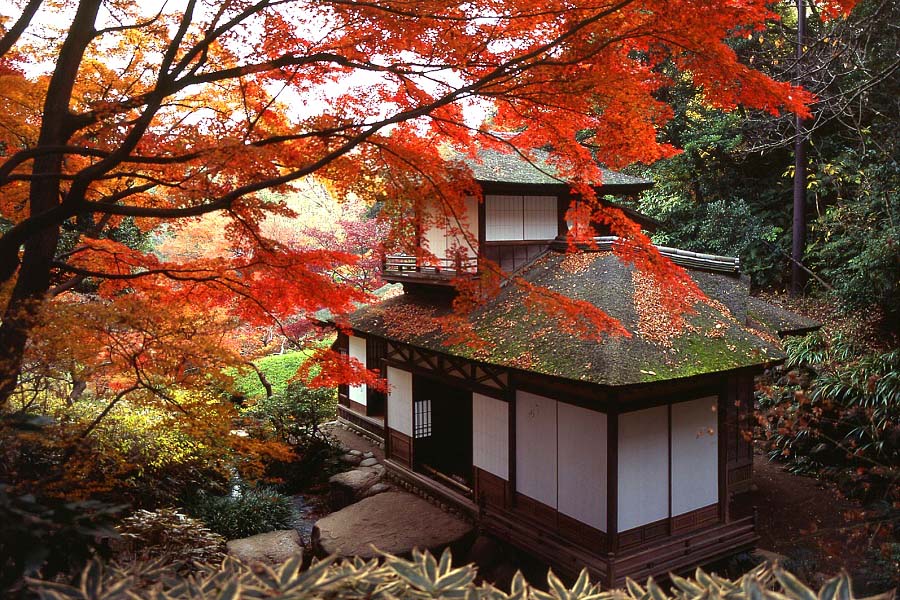 The vast traditional Japanese garden covering over 175,000 sqm. with historical buildings across Japan. During the autumn season, gingko and maple trees in the garden turn their colors into bright yellow and vibrant red. The area around Choshukaku tea house -built especially for viewing autumn leaves- is tinted with the deep red of maple leaves, creating a world where beautiful reds and golds can be enjoyed within the peaceful quiet of these carefully designed gardens.
SANKEIEN GARDEN
Address
58-1, Honmoku Sannotani, Naka-ku, Yokohama
Area
Honmoku/Motomachi/Yamate
Closest Railway Station
From Negishi Station: JR Keihin Tohoku Negishi Line: Get on the municipal bus from bus stop No.1, take Route No.58,99 or 101 to bus station Honmoku, 10 min. walk to the Garden
From Yokohama Station: Get on the municipal bus from the bus stop No.2, take Route No.8 or 148 to bus station Sankeien Iriguchi, 5 min. walk to the Garden
TEL
045-621-0634
Hours
9:00am to 5:00pm (Last entry 4:30pm)
Admission
700 yen (Age of 15 and above)
200 yen (Age of 14 and under)
URL
https://www.yokohamajapan.com/things-to-do/detail.php?id=109
---
2. Nihon Odori Avenue
Designed by R. H. Brunton and completed around 1870, Nihon Odori Avenue is Japan's first western-style road. The avenue is lined with stately historical buildings such as the Kanagawa Prefectural Government's Office and Yokohama Archives of History, and open-air cafes dotting the sidewalk are popular spots for resting and viewing the beautifully colored ginkgo leaves. The breathtaking contrast of stately buildings and colorful autumn leaves make this the perfect spot for sketching or photography.
NIHON ODORI
Address
Nihon Odori, Naka-ku, Yokohama
Area
Chinatown/Kannai/Yamashita Park
Closest Railway Station
Kannai Station: JR Negishi Line
Nihon Odori Station: Minato Mirai Line
---
3. Yamashita Park Avenue
Located adjacent to Yamashita Park, Yokohama's most famous park, Yamashita Park Avenue is bustling street lined by Yokohama's most popular sightseeing sights, including Yamashita Park on the ocean side and Yokohama Marine Tower and Chinatown inland . Strolling along Yamashita Park Avenue is a special treat during the autumn season, when the paths are covering in a golden "carpet of ginkgo leaves". Porin Bridge stretching from Yamashita Park to the Yokohama Doll Museum and the areas around the Hotel New Grand are highly recommended sites for taking photographs.
---
4. Kanazawa Natural Park/Zoological Garden
Exhibiting approximately 40 species of rare herbivorous animals, this zoological park also provides animal guides and holds "animal-feeding" and other mini-events on a daily basis. More than 400 trees in the park -including ginkgo, maple, and Chinese tallow trees- change color from mid-October through until early December, enabling visitors to enjoy a relatively long autumn leaves viewing season.
KANAZAWA ZOOLOGICAL GARDENS (PARK)
Address
5-15-1, Kamariyahigashi, Kanazawa-ku, Yokohama
Area
Southern Yokohama
Closest Railway Station
Kanazawa-Bunko Station: Keihin Kyuko Line
TEL
045-783-9100
Hours
9:30am to 4:30pm(Last Entry 4:00pm)
Closed on Mondays
Admission
(Zoo) Adult: 500 yen / High school student: 300 yen / Elementary school student / Junior high school student: 200 yen
(Park) Free Admission
URL
https://www.yokohamajapan.com/things-to-do/detail.php?id=57
---
5. Kodomonokuni (Children's Land)
The 250 acre park houses a farm with animals and a plaza where visitors can enjoy barbecue. Other attractions include a 110 meter long slide, a mini steam locomotive, and an artificial river amongst other facilities. From the end of summer, the leaves of the trees throughout Kodomonokuni gradually take on their vibrant autumn colors, beginning with the yellow leaves of Katsura trees, followed by the yellow ginkgo and Japanese zelkova leaves in late October, bright red maple and deep orange Chinese pistachio in November, and yellow-orange Metasequoia and groves of yellow-orange Sawtook oak and orange-red Konara oak in December.
---
6. Nogeyama Park/Zoological Gardens
Located on a hilltop in a quiet residential neighborhood, Nogeyama Park is a great place to escape the crowds and enjoy the peaceful greenery and wide open spaces. Opened in 1951, Nogeyama was the first zoo to be opened in Yokohama. Covering an area of 8 acres, Nogeyama is the only centrally located zoo within Yokohama, making it very convenient and easy to access. More importantly, it is free!
---
7. Mitsuike Park
Located approximately 1.8 km northwest of Tsurumi Station, Mitsuike Park comprises three ponds. The name of "Mitsuike" came from them. It is enclosed in an abundant forest. When autumn arrives, the leaves of the Japanese maple and ginkgo trees begin to change colors, starting with tree groves, and the park is a well-known spot for viewing of the autumn leaves. Visitors can also enjoy the enchanting cosmos, cockscomb, great burnet, and other autumn flowers blooming in planters arranged around the Flower Plaza.
MITSUIKE PARK
Address
1-1 Mitsuike Park, Tsurumi-ku, Yokohama
Area
Northern Yokohama
Closest Railway Station
and Bus Stop
Mitsuike-Koen Kitamon (Municipal Bus Route 6 or 104) from Shin-Yokohama Station(JR)
Mitsuike-Koen Kitamon (Municipal Bus Route 6, 67,or 104) from Tsurumi Station (JR)
TEL
045-581-0287
Hours
All-day open
Admission
Free
URL
http://www.kanagawaparks.com/mitsuike/
---
8. Negishi Forest Park
Negishi Forest Park is something of an oasis hidden in an urban neighborhood setting. Known in Japanese as 'Negishi Shinrin Koen', this is one of the largest parks in Yokohama with a surface area covering over 1800 square meters. With its many trees, including Japanese zelkova and ginkgo trees, encircling gently undulating open grassed areas, Negishi Forest Park is the perfect place to enjoy the beautiful autumn scenery.
---
9. Shomyoji Temple
With its vermilion‐lacquered arched bridge and flat bridge, the temple's Jodo-style garden is breathtakingly beautiful. The area around the Agigaike Pond is dotted with grandfather trees that have stood here for more than 800 years, creating a landscape that can be enjoyed in every season. During the autumn season, these grand old trees transform as one into a golden sea of leaves.
---
10. Yokohama Park (Yokohama Stadium)
Yokohama Park is Yokohama's second-oldest park after Yamashita Park. With the completion of Yokohama Stadium in 1978, Japanese-style gardens were constructed along with ponds, fountains, and multi-purpose open spaces. Although the park is famous for its spring tulips, during the autumn season the trees around the waterways and ponds in the Japanese-style garden are brightly painted in reds, yellows, and oranges, making the park a popular site for viewing autumn leaves.
---