Christmas Events and Winter Illuminations in Yokohama
2022-2023
What's Hot
In Japan, the streets are beautifully illuminated around Christmastime, starting from November and lasting through the New Year, ushering in a sparkling season. In Yokohama, too, tall Christmas trees are erected in popular tourist spots, and the glittering lights are accompanied by Christmas songs, spreading a Christmas mood. Some of these winter illuminations can be seen until Valentine's Day or the Lunar New Year; so come to Yokohama this winter with your date, your family, or friends, and experience the scintillating scenery unique to this time of year.
Minato Mirai 21
The Yokohama Red Brick Warehouse will hold the holiday event "Christmas Market in Yokohama Red Brick Warehouse" from November 25 (Fri.) to December 25 (Sun.), 2022.
This year, the event motif is the Christmas market that takes place in Germany, which is characterized by the wide variety of shops that it gathers. The 10-meter-high Christmas tree, the symbol of the event, will light up and make you feel as if you are visiting a German Christmas market.
You cannot miss it.
An evening art program synchronizing the city, the scenery, and the people of Yokohama.
Throughout the event period, special performances consisting of illuminations and searchlights around Shinko Chuo Hiroba (Shinko Central Square) and on the walls of surrounding buildings will be held eight times daily.
Enjoy a dynamic performance featuring where trees, and buildings of Shinko Chuo Hiroba all come together.
On a night before Christmas Eve, Minato Mirai will be shining brightly.
In this event, which lasts for just one day, all the office buildings in the Minato Mirai 21 area come together to turn the entire district into a single illuminated display. This year's event will be held on December 23 (Fri.).
All the office buildings in the district will be lit up for an illumination of the Minato Mirai area. Each year, this illumination of every building, which has become a Christmas season tradition, draws a large crowd of photography enthusiasts and visitors to the area. Don't miss this once-a-year chance to enjoy the glittering night scenery.
The Yokohama Milight Event Committee presents "Yokohama Milight - Luminous Town, shed light on the future" from November 10 (Thu.) 2022 to February 12 (Sun.) 2023. Under the theme stated in its name, this event will illuminate the Minato Mirai winter streets with colorful lights.
It is the display of lights starts from Yokohama Station towards Sakura Street with a total length of about 1.5 kilometers.
"Minato Mirai Christmas 2022", a Christmas event under the theme of "Harry potter" will be held in the Minato Mirai area from November 10 (Thu.) to December 25 (Sun.), 2022.
During this event, a Harry Potter-themed Christmas tree ""Harry Potter" Hogwarts Enchanted Tree" stands at Landmark Plaza 1st floor Sakata Seed Garden Square, and ""Harry Potter" Quidditch Tree"" will be displayed at MARK IS Minato mirai 1st floor Grand Galleria.
Queen's Square Yokohama will hold the event "Queen's Square Yokohama Christmas 2022" from November 4th (Fri.) to December 25th (Sun.), 2022.
A dynamic and gorgeous tree stands at Queen's Square Yokohama, which is one of the main spots for tourism and entertainment in the Minato Mirai area.
Event dates
Nov. 4 (Fri.) to Dec. 25 (Sun.), 2022
*Illumination displays: until Feb. 28 (Tue.), 2023
Illumination time
Tree : 11:00 AM - 11:00 PM
Show time : Six Min. show, six times a day (4PM, 5PM, 6PM, 7PM, 8PM, 9PM)
Illumination Display : 4:00PM - 12:00AM
Chinatown / Yamashita Park / Yamate / Motomachi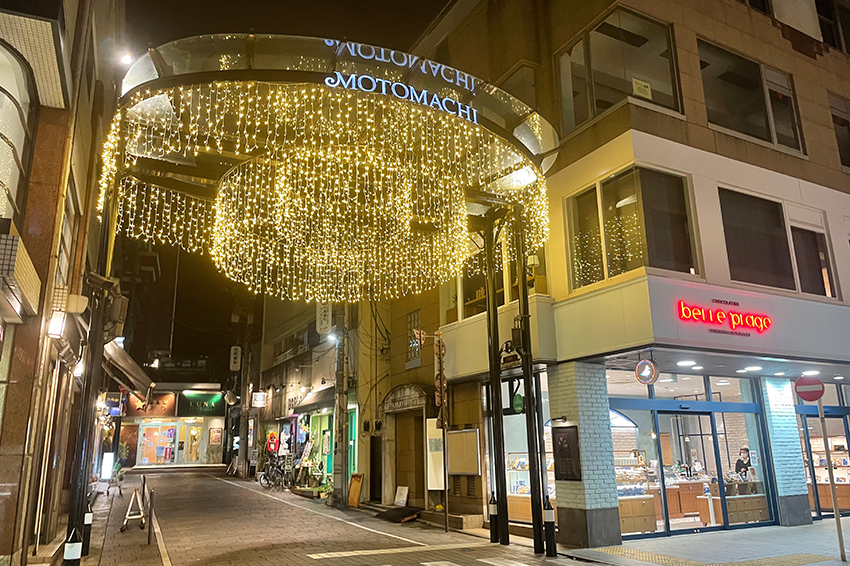 The classic and modern illuminated decorations featuring the soft tones of light bulbs bathe this 600-meter street in light.
| | |
| --- | --- |
| Dates | Nov. 3 (Thu.),2022 to Feb. 26 (Sun.), 2023 |
The "Lantern Festival" in Yokohama Chinatown has as its theme the Chinese saying "Gofukutomon: for all kinds of happiness to enrich everybody's lives", and it's represented by the combination of illuminated chords in which lamps, paper lanterns and red LED lights shine dying the streets of Chinatown to its characteristic red color. Two lantern-dragons dancing on the night sky of Chinatown can be appreciated. The one on Chinatown Main Street is one of the largest existing in Japan, and the other one, cute and small, will appear on Kanteibyo Street. What's more, in each street red paper lanterns and other kind of lights typical of the Spring Festival shine too, giving the urban landscape of Yokohama Chinatown a tone even brighter than the usual.
kannai / bashamichi / isezakicho
The shopping mall ISEZAKI MALL in Yokohama holds the annual illumination event "Isezaki☆Light" from November 25, 2022 (Fri.) to January 31, 2023 (Tue.).
Heart-shaped snowflakes and other colorful figures that bright in geometric patterns decorate the 400-meter-long mall in a romantic manner. An impressive 'corridor of lights' made of 10 figures, along 2 heart-shaped illumination units that represent happiness and love can be appreciated this year too.
An eco-friendly display of 70,000 LED lights recreates a winter atmosphere. This event that celebrates its 19th year, is now a winter tradition of ISEZAKI MALL.
Yokohama Station
Yokohama Bay Quarter will hold the holiday event "Yokohama Bay Quarter CHRISTMAS" during Christmas season from November 5 (Sat.) to December 25 (Sun.), 2022.
As Yokohama Bay Quarter reaches its 17th Christmas, this illumination event is created under the theme of "Christmas Forest". In the plaza that has on its background the bay area night view, an 8-meter-tall Christmas tree will stand.
When the light-up time comes, the gentle lights illuminate the flowers and transforms into a romantic space. The 8m-high real fir tree that rises in the center is colored with champagne gold lights, and you can see the animals living in "Christmas Forest" under the tree.