Explore the Best of Yokohama on Two Wheels
— A One-Day Itinerary
What's Hot
Yokohama is perfect for cycling excursions: the paths are mostly flat, and there's so much to see along the way. One of the most convenient ways to get around is by using BayBike's bike share system. The service has more than 100 stations and designated parking areas across Yokohama, making it an excellent choice for those who want to get around without worrying about where to park.
More tips and information about bicycle rental below but first, here's a sample itinerary of what a day trip around Yokohama on two wheels could look like.
10:15am : Starting point : Minatomirai Station
10:20am : Buy a 1-day Pass at Yokohama Royal Park Hotel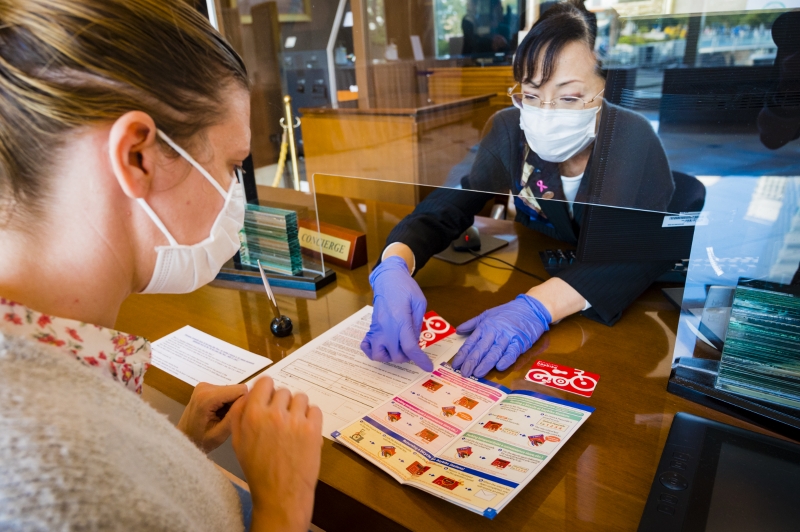 If you're staying at Yokohama Royal Park Hotel (located inside Yokohama Landmark Tower, and a short walk from Sakuragicho Station) then your best bet is with the hotel concierge. They can set you up with your 1-day Pass and offer dining tips and information that you may not get otherwise.
Pick up your bike at BayBike Port Dockyard Garden (Nr 38*)
You can search by entering the port name or Nr in the search window.
*https://www.google.com/maps/d/u/0/viewer?mid=1jhQA9-EMSTN0TH6javoFWbR18tM
10:30am : Set out and explore the city!
The street outside Yokohama Landmark Tower is lined with cherry trees, which bloom into a beautiful pale pink in spring and are lit up with bright lights in winter. You can do some shopping here, check out the ship Nippon Maru and the Yokohama Port Museum across the way, or head straight on down to Yokohama Cosmoworld.
11am : Check out Yokohama Cosmoworld
Check out Yokohama Cosmoworld's many attractions, including one of Yokohama's most recognizable symbols: the Ferris wheel, known as the Cosmo Clock 21. Nearby Kokusai Bridge is a great spot for photos of both the theme park and on the other side, Yokohama Port.
12:15pm : Lunch at Hungry Tiger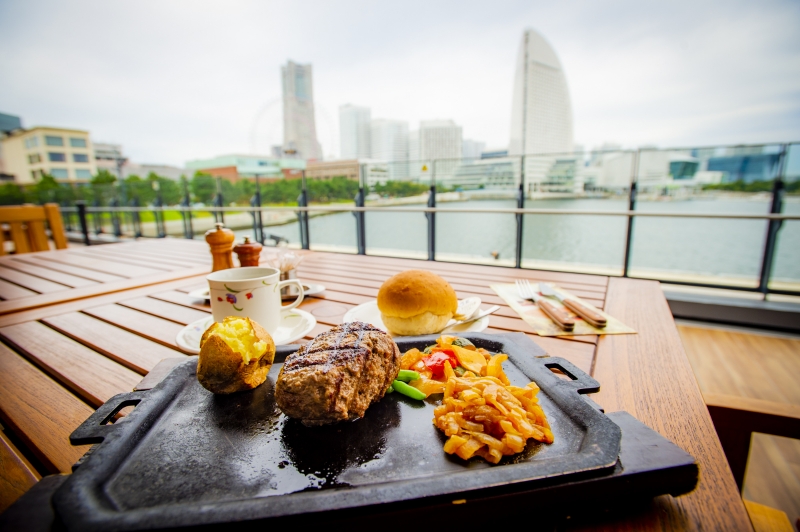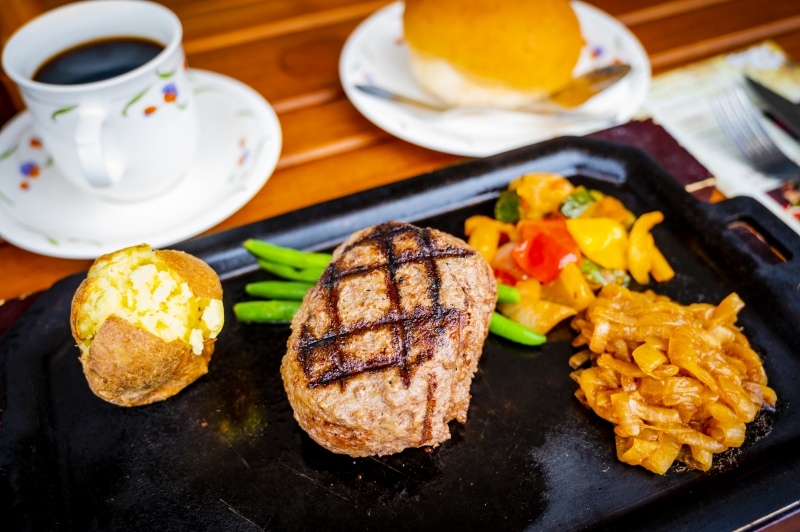 Cycle below the famous Circle Walk pedestrian bridge to YOKOHAMA HAMMERHEAD, a new passenger ship terminal, shopping and hotel complex that has one of the best views of the harbor area. Hungry Tiger serves some serious Japanese soul food: the humble hamburger steak, but cooked on a charcoal broiler to seal in the flavor and maximize the meat's juiciness.
Park at CUPNOODLES MUSEUM Park (Nr 104) or MARINE & WALK YOKOHAMA (Nr 55)
1:10pm : Dessert at Hammerhead Park
After lunch, grab some dessert at one of the factory-style sweet shops here, where you can see cakes and chocolates being made right before your eyes. Ariake Harbour Studio sells one of Yokohama's most famous confectioneries, fluffy bite-sized cakes in the shape of ships. Buy a special set of three cakes with your photo on it for a commemorative souvenir of your trip.
Chocoholics should head to VANILLABEANS THE ROASTERY to pick up unique chocolate tablets with yuzu, matcha and hojicha, or try one of the many chocolate sandwich options.
Walk straight through the second floor to the ocean side and go outside of YOKOHAMA HAMMERHEAD to reach Hammerhead Park, which spreads out at the foot of the large Hammerhead crane. Here you can eat your sweets with a view. If the weather isn't willing, then dine in at either of the shops, as they both have adjacent cafes.
1:50pm : Visit Yokohama Red Brick Warehouse
Explore, shop, enjoy the open space and the view of the harbor.
Park at Aka-renga Park (Nr 10)
2:20pm : Wander Yamashita Park
Leave Yokohama Red Brick Warehouse and head for Yamashita Park. Bikes are not allowed in Yamashita Park, so you'll have to get off your bike and walk. If you'd rather cycle, follow the road down below. You'll be rewarded with an avenue of gingko trees that runs parallel to the park, which turn a golden yellow in autumn. The park is the perfect place to relax, take a stroll and enjoy the flowers that bloom here most of the year.
Park at Yamashita Park West (Nr 08) or Yamashita Park East (Nr 09)
3:30pm : Discover historic Sankeien Garden
Sankeien Garden, which is a National Site of Scenic Beauty is a traditional Japanese-style garden with bridges, ponds, and beautiful old buildings. Take some time to explore it and enjoy a cup of matcha with some Japanese sweets.
Park at the bicycle parking lot at Sankeien Garden
5:40pm : Snap photos of the iconic Yokohama skyline at Osanbashi Pier
Cycle back to Osanbashi pier — one of Yokohama's best locations for stunning nighttime city views — to watch the sunset and the gradual change as the city lights brighten the darkening sky.
Park at Osanbashi Yokohama International Passenger Terminal (Nr 46)
6:10pm : Call it a day and head out for the night
Now that you've spent the day cycling, after return your bike, it's time to enjoy dinner — maybe with a drink or two — at one of the city's amazing restaurants.
Return the bike to Yamashita Park West (Nr 08)
BayBike Rental Tips
BayBike 1-day passes cost 1,527 yen (tax included) for a full day, but note that the pass expires at 11:59 pm on the day you start to use your pass, so buy it early to make the most of your trip.

Buy you pass at one of the numerous pass counters across the city. See the BayBike website for details. http://docomo-cycle.jp/yokohama/en/
Cycling Road Rules
Cycle with the flow of traffic on the left side of the road
Cycle on roads and avoid sidewalks where possible
Pedestrians have the right of way on sidewalks
Do not ride under the influence of alcohol
Use a light at night
For more tips and detailed price information,
visit http://docomo-cycle.jp/yokohama/en/
Note: Business hours and services may differ due to the impact of Covid-19